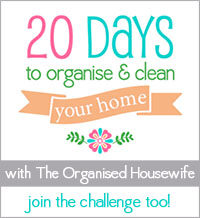 The colds and flu are mostly gone from our house for now (touch wood) so it is catch-up time.
Week 1 went quite excellently! I hadn't seen our kitchen, laundry and living areas so sparkly clean for a long time. Unfortunately for the cleaning (but fortunately for the bank account) I had some work come in with a deadline that had to be met so instead of cleaning when the toddler slept I had to work... until now! That work project is done and dusted and I can get back to the actual dusting. Here are some (not particularly good) photos with a bit of before & after action.
Kitchen - before and after.
Neither the kitchen nor the laundry look this tidy a week or two later though but they are still a lot better than they were. It is true that it is much easier to keep a clean and tidy house if you start off with a clean and tidy house.
Today I jumped ahead to the current challenge -
tidying the outdoor patio area
. I wonder how The Organised Housewife knew we were going to be having such lovely weather today? ;) I've swept, cleaned windows, moved outdoor furniture around and enjoyed the spring sunshine. Now I have to get back to the yuckier jobs like cleaning out the 'junk' drawer. In our house it is common to hear the question - 'Where's the sticky tape?' followed by the answer - 'Check the third drawer down.' It's a bit of a catch-all at the moment and I'm not looking forward to sorting that one out.